Rockers and Rappers – Dark & Golden 004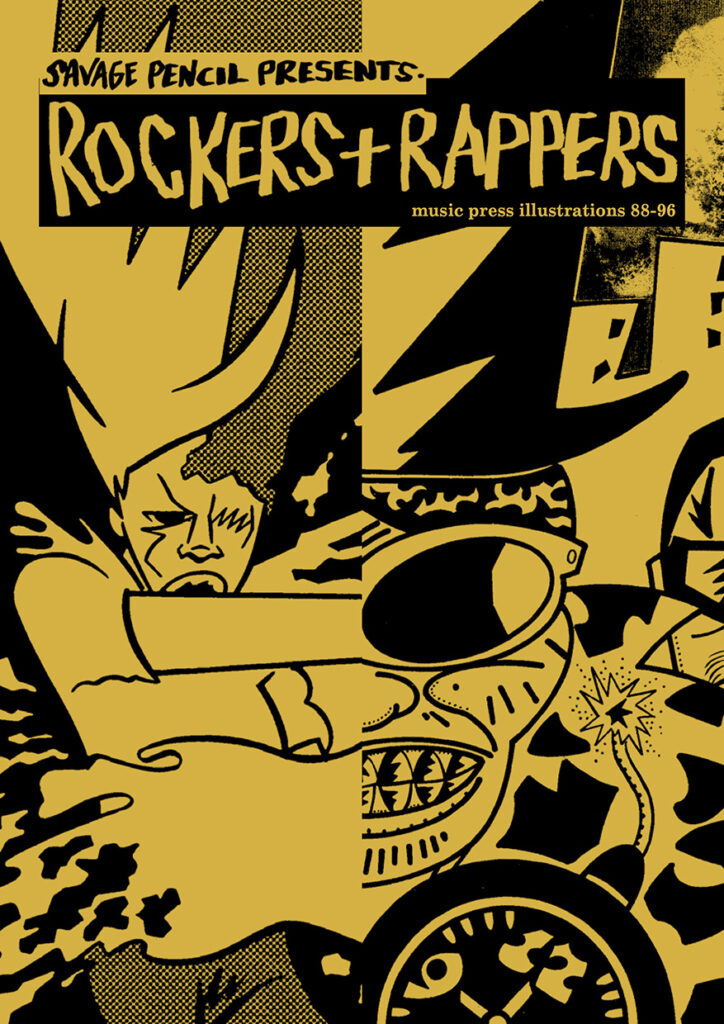 Dark & Golden Books are pleased to be able to present Rockers and Rappers, a collection of Savage Pencil's illustrations from music papers from the 80's and 90's. In its pages the reader will reacquaint themselves with some of the biggest artists of the time, and some who have been (possibly?) unjustly forgotten. Twenty-four images that defined the musical space of an era, accompanied by Savage Pencil's own notes on each. Immaculately designed by the artist to resemble a zine of the period, and beautifully Riso printed by Pagemasters, Rockers and Rappers is an indispensable record of an era through the incredible lens of Savage Pencil's always stunning art.
Savage Pencil is an underground cartoonist, artist, writer, musician, and amateur magician, and has been conjuring up images since 1977. Beginning with his "Rock 'N' Roll Zoo" strip for 1970s music paper Sounds, his wild work has been entwined throughout the music press as well as the worlds of comics and music itself. Along with all this, Savage Pencil has also designed album covers, T-shirts, posters and other merchandise for bands including Sonic Youth, Big Black, The Fall, Sunn O))) and Coil.
Art and design by Savage Pencil.
Newly scanned from the original art, this collection contains 24 drawings and collages originally published as illustrations to reviews and articles in the music press, plus a new Introduction and notes on the artists in each image by Savage Pencil.
Limited to 100 copies.
Dark & Golden Books are dedicated to charting a less travelled course through the history of British comics, finding and celebrating mislaid and forgotten classics for the audience of today in new high-quality editions.
---
148mm x 210mm
28 pages, in black and white, with yellow covers.
Art scanned at 800 dpi on an Epson 11000XL Scanner.
Comic printed on Munken Lynx 100gsm paper with a Colorplan Factory Yellow 135gsm cover by Pagemasters on an Riso printer.